If you're passionate about crafting and looking for a reliable cutting unit, look no further than the Cricut Explore Air 2. Today, I will review this crafting workhorse in detail.
This model by Cricut is a life-saver for passionate crafters, including myself. I own every machine by this brand but this one is my favourite because it's made with simplicity in mind.
Explore Air 2 is a straightforward, effective cutter that will provide you with the best crafting experience. It's a popular cutting machine. And for a good reason.
When I think about it, there are many good reasons why this cutting unit is so popular among crafters in the world. In my Cricut Explore Air 2 review, I will talk about the benefits of this unit.
However, I will also uncover all the disadvantages that come with buying this cutting machine. Without further ado, let's begin and find out what makes the Air 2 so special.
Is Cricut Explore Air 2 Worth It?
Cricut Explore Air 2 isn't a perfect cutting machine. There is no perfect cutting machine. However, it's a great deal for hobbyists and absolute beginners. Shop now at Cricut Store too!
I love my Explore Air 2 because of the conventional storage compartments and other handy and durable cutting tools such as the German carbide blade.
What Does Cricut Explore Air 2 Come With?
If you decide to give this cutting machine a chance, you will get other tools that will come handy such as the following:
Getting started guide
The software and application
German carbide blade
Adapter and USB cord
Built-in projects and free images
Cardstock sample with a pen
Cutting mat with a regular grip
Built-in Bluetooth connectivity
Straightforward functions
Storage compartment
It's also important to mention that Explore Air 2 is a lightweight cutting unit available in three different colours including cherry blossom, mint green, and matte black.
Is Cricut Explore Air 2 Easy to Use?
Explore Air 2 is one of the smartest, easiest cutters available on the market. It's loaded with convenient storage compartments and simple functions.
The software is also easy to learn but has a learning curve. Beginners might find it difficult to master but with enough practice, patience and passion, nothing is impossible.
Do You Need a Computer Explore Air 2?
You don't need to buy a new computer to utilize a Cricut cutting machine. However, make sure that your current computer has the minimum system requirements for the best results.
The Cricut Explore Air 2 is compatible with both Mac and Windows computers. An internet connection is required because the software is web-based but you can use your unit wireless.
Can I Use Cricut Explore Air 2 Without Internet?
You will need a computer to use the Explore Air 2. But you can access your projects without an internet connection. You can also access the whole Cricut image library in offline mode. Watch this video to know more:
Cricut Explore Air 2 Review 2022
At first glance, this machine may not look special. It's simple and minimalistic. However, a closer look at it reveals a whole different story. This miniature cutter is a real workhorse.
It's a leading cutting machine on the market because of many reasons. For example, it's made to cut at a speed that's almost two times the speed of its predecessors which is amazing.
Also, Explore Air 2 offers two modes. You can pick between the fast and normal use mode. Simply switch to the fast one when you want to save time and finish your project faster.
Explore Air 2 is ideal for smaller business owners who want to expand their business. This cutter is going to help you finish projects faster and respond to more clients in the future.
Another impressive feature of this model is that it arrived with a wide library of images. This rich library offers over 3,000 simple projects you can take advantage of at any given time.
If you don't have time to make your designs and want to use pre-made designs, this rich library has your back. This feature saves you time and money. You won't need to buy designs.
What I also find interesting about this machine is the compatibility with different devices such as iOS or Android. The Explore Air 2 is compatible with PCs, smartphones and tablets.
If you're a designer like me, you will find this feature amazing because you're completely free to create a design and print it on-the-go anytime, anywhere on your smartphone or tablet.
You can create something on your smartphone while heading home, and print it the moment you enter your working station. That's the type of flexibility every designer dreams of. Watch this video below to know more:
What Can Cricut Explore Air 2 Cut?
Explore Air 2 is capable of many things. You can make different DIY crafts with this machine such as the following:
Personalized Cards
This machine arrives with amazing pens that can be added and utilized to make customized handwritten cards. What adds to the freedom is the 370 font available on this unit.
Once you've chosen your favourite font, all you need to do is lay back and relax. The Explore Air 2 will do the rest. This cutting machine is capable of writing through any material.
Access Lots of Printable Designs
Once you buy this unit, you will gain access to over 500,000 printable photos. However, that's not all you can do. There are also over 1,000 printable patterns you can use.
The best part? You can upload your images and patterns for printing. If you're still doubting whether you need to invest your money into the machine, just think of all the benefits.
You will get design flexibility and unmatched printing power in a single cutting machine. Also, no matter your skill level, you will be able to master this machine in no time.
A Broad Variety of Materials
Whether you plan to deal with thin materials such as vellum or stubborn, thick materials such as leather, the Explore Air 2 has your back. It's suitable for both thin and thick materials.
It's packed with all the technology required to create precise, accurate and clean cuts. It's loaded with a built-in smart set dial that requires only adjusting to accomplish various settings.
The dial comes with a list of materials that you can cut. All you need to do is choose a suitable setting for your needs. You can also use your access to Design Space and improve your settings.
Scoring Stylus
A scoring stylus is a handy tool you need to perfect your crafts. For example, you can utilize it to make acetate pinwheels, envelopes, 3D paper crafts, boxed, and so on.
Ability to Cut Intricate Details
You can use the Explore Air 2 to make intricate details with impressive accuracy. You can make different things like snowflake designs, lace stationery designs, and spider webs.
Watch this video to know more:
How Thick Can Cricut Explore 2 Cut?
Cricut cutting machines have a problem with cutting width. This is why I would only recommend the Air 2 for home use or light-duty commercial use.
The unit itself measures 14 inches long and 12 inches wide. In reality, you will get 11.5-inch x 23.5-inch. This isn't the biggest cutting width you can find.
Fortunately, the cons overweight the cons in this case. Explore Air 2 can help you finish many projects in record time, unlike other cutting machines.
Also, it's important to mention that the unit's cutting width may decrease depending on the option you pick. For instance, if you utilize the "Print The Cut" option for your inserted designs, the capability differs from one browser to another.
For example, you would get 6-inch x 8.5-inch on Safari, Firefox and Internet Explorer, and 5.5-inch x 8-inch on Google Chrome. That is as opposed to when you buy designs from the Cricut library.
Full-width printing isn't present for inserted images. Keep this limitation in mind before you buy the Air 2 so you don't get disappointed when trying this feature.
What Software Does Cricut Use?
Unfortunately, unlike other cutting machines on the market, Cricut cutters can only be utilized with the Design Space software. It's important to note that this software is web-based.
This means that you would need a good internet connection log-in via your browser to access the files. If you don't have a good internet connection, this would be a big problem.
However, in regards to functionality, this software is straightforward, useful and easy to master. It's not as powerful as Adobe Illustrator or CorelDraw but it's perfect for beginners.
As I already mentioned at the beginning, this program includes a lot of pre-made projects you can use in the future. Also, you can use the software on your smartphone, PC or tablet.
This is great for beginners and hobbyists. However, it might not sound that appealing to advanced users who may want to enjoy more design flexibility.
What's good about this software is that Cricut keeps it updated and you can always look forward to new design features. For instance, users with the iOS app can use it offline.
Watch this video to know more:
What Is Cricut Explore Air 2 Cartridges?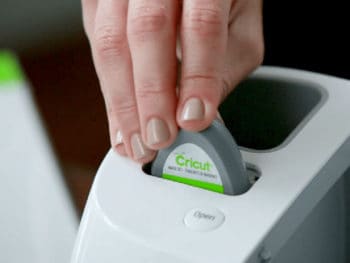 The good news about this machine is that it's made to utilize the old cartridge system of Cricut.
This means that if you've been using Cricut cutting units before, you will be glad to learn that you won't need to purchase more cartridge packs in the future.
You can upgrade your software without issues. If all this wasn't enough to convince you to purchase the Explore Air 2, wait until you hear about the other benefits.
Bluetooth Connectivity
The Explore Air 2 comes with Bluetooth connectivity which means that you can use your cutter wireless. Also, you will get a nice storage space for your tools.
A Double Tool Holder
The double tool holder attaches with 2 clamps. One of them can be utilized for cutting while the other is intended for writing. This makes the Explore Air 2 a real time-saver.
You can write and cut things at the same time. However, this machine lacks a rotary blade. This blade is handy equipment for cutting and writing when fabrics are involved.
German Carbide Premium Blade
The German carbide premium blade is a handy and powerful tool. It's specifically made for cutting both light and mid-weight materials.
It can be used for cutting vinyl, cardstock, and poster boards. What I like about this tool is the durability. It lasts 3 times longer than a regular blade.
Cutting Mat With a Regular Grip
This one-of-a-kind mat has been fixed for boosted performance. What's new? The mat has been made to match some of the suggested materials such as iron-on, vinyl, and pattern paper.
Generally, the cutting mat has a standard grip which keeps your material intact. Removing your material is also easy. This mat arrives with a ruler and grid markings allowing for flexible use.
Watch this video to know more:
Pros and Cons of Cricut Explore Air 2
As I already mentioned, this machine isn't perfect just like any other cutting machine in the market. Let's summarize the main pros and cons of this simple but effective cutter.
Pros:
This unit is available in four different colours including gold, baby blue, mint green, and a soft pint. You choose the colour that matches your working station.
Most of this unit's compartments and design resemble what's on Explore Air, this machine is faster. The Air 2 has a wireless network power as well.
This baby picks the wireless signal very fast. This means that you can send a lot of projects remotely to it. And it will conveniently complete them for you.
If you're a beginner, you will be happy to learn that this workhorse includes a test project. Also, you can watch the detailed instructions online on how to use this cutter.
If you're looking for a modern, effective, and affordable cutting machine with a good reputation, look no further than this model by Cricut. It brings great value for money.
You can find the Explore Air 2 for less than $300 which is a lot cheaper than the Maker. The Maker costs approximately $150 more than the Explore Air 2.
Unlike other cutting machines available out there, the Explore Air 2 doesn't have sliding mat problems. On the contrary, it comes with a good mat with a unique design.
Air 2 has 210gf cutting power. It's not as much the 4kg that the Maker has. However, it's still a decent number. You can cut materials up to 1.5mm thick with the regular blade.
If you want a deeper cut, all you need to do is load the deep-cut blade. You will be able to cut materials up to 2mm thick. Explore Air 2 can deal with over 100 different materials.
This feature complements the compatibility of the machine with smartphones, tablets or PCs.
As long as your phone or tablet has Bluetooth, you wouldn't need cables to print patterns and images from it. This is one of my favourite features about this cutter.
Cons:
It's dumb that Cricut has made an application for iOS but didn't make one for Android devices.
If you're following the trends, you probably know that Android smartphones win the markets. Hopefully, Cricut will work on this issue and provide an app for Android as well.
I honestly think that Cricut needs to allow users to use third-party software. The existing software is free and simple but advanced crafters might find it too simple.
Also, Cricut can focus on improving their software in aspects of graphic design. It's not powerful enough for this. Otherwise, some users might look for an alternative.
Louder Than Other Cricut Models
Explore Air 2 is not a loud cutting machine. However, it's certainly louder than the Explore Air. This is not considered as a big issue but I think it's worth mentioning anyway.
If you're super sensitive to noise, it might affect you. Otherwise, if you're looking for a super-fast cutting and affordable cutting machine, look no further than the Explore Air 2.
FAQ
Final Words
Considering the long list of useful features included in this review, the Explore Air 2 looks like a fine unit. it's super fast and delivers precise cuts.
What more could you look for in a cutting machine? Explore Air 2 is perfect for home use or light-duty commercial use. It's loaded with the premium, durable German carbide blade.
Although it's not a perfect unit due to the lack of Android application and basic software, it's still a great deal for enthusiastic crafters. Hopefully, you enjoyed my Cricut Explore Air 2 review.
Have you had any experience with this cutting machine? If so, share your thoughts and experiences in the comments below.